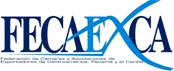 CENTRAL AMERICAN, PANAMA AND CARIBBEAN FEDERATION OF CHAMBERS AND EXPORTERS`ASSOCIATIONS

            WHAT IS FECAEXCA?
The Central American and Caribbean Federation of Chambers and Exporters` Associations, was created in 1985, and it is the Regional Entity of the private sector which groups the institutions representing small and medium sized exporter.  The Federation has the responsibility to execute important export development programs and to promote active participation of companies in favor o economic development in their countries.
OBJECTIVES
· Encourage the strengthening and development of member institutions within a free enterprise scheme.
· Promote exports of the member countries.
            ORGANIZATION
FECAEXCA is constituted by an Executive Council and a Board of Executive Director who are in charge of executing and living follow up to the mandates of the Executive Council.
Regional Projects Executed:
EUROPEAN COMMUNITY:
· Support the Quality and Security of Non-traditional Export Products of the Central American Region (ECUS 850,00 / 1994-1995)
· Technical Assistance for the development and promotion of exports of the Word Sector in Furniture from the Central American Isthmus (ECUS 600,000 / 1994)
· Regional Program of visits from European Importers (ECUS 550,000/ 1994-1995)
· Data Bank (ECUS 550,000 / 1994-1996)
· Support the Air and Sea Transport Sector of Non-traditional Products (ECUS 733,000)
Administrative and Organizational Redesign and Transformation Project for 60 Central American companies through reengineering –PYMES 60-: technical assistance to Central American manufacturing companies of the non-traditional export sectors to improve their competitiveness in an international environment.

Guatemala  / AGEXPRONT                   15 empresas
El Salvador / COEXPORT                     09 empresas
Honduras / FPX                                  07 empresas
Nicaragua / APEN                               03 empresas
Costa Rica / CADEXCO                        10 empresas

REGIONAL PROJECTS EXECUTED
Trade Facilitation Office Canada –TFOC-:
Program of seminars and missions of Importers and Exporters and technical assistance in specific topics to Central American exporters (1998) $30.000
Assistance to export to Canada (In progress) $45.000

SICA: Integral Program for the Development of Central American Exports to the European Union (1999-2000)

SIECA: Cooperation Agreement of Information Systems (US$1,000 / 1999)

Central American Trade Statistics

Document Information System

Tariffs`Information System


REGIONAL PROJECTS EXECUTED
CCI/BCIE: Key for Commerce: Book of Proposals for Small and Medium Businesses (2000) $40.000

CBI Holand: Promotion of Exports to Europe Duch as children's clothes, / Promotion of Exports to Europe such as children's clothes, organic products and food.  $ 1.000.00

Tratin: the Trainers  Train the Trainers –ABC Program of Exports (2002-2003) ·325.000

COCATRAM / CENPROPYME: Transport Guide of Central America (in progress) $35.000


PROJECTS IN EXECUTION
AGROCAFTA: Project of  the competitiveness for Central America PYMEs, to profit  opportunities of the DR-CAFTA.
BID-FOMIN: Project to incorporate small and medium businesses to the U.S. markets Ander the FTA framework (US$5M –in progress)

AGEXPORT
Asociación Guatemalteca de Exportadores
Presidente FECAEXCA: Ing. Juan Carlos Paiz
Presidente AGEXPORT: Ing. Carlos Amador
Directora Ejecutiva: Licda. Fanny D. Estrada
Dirección: 15 av. 14-72 Zona 13 Guatemala, Guatemala 01013
Tel.: (502) 2422-3400, Fax.: (502) 2422-3434
E-mail: fecaexca.sederegional@agexport.org.gt
Web: www.export.com.gt

APEN
Asociación de Productores y Exportadores de Nicaragua
Presidente: Ing. Enrique Zamora Llanes
Directora Ejecutiva: Lic. Haydee Azucena Castillo Barquero
Dirección: Managua, Nicaragua Bolonia, de la Iglesia San Francisco ½ c. arriba, Casa No. 1280.
Tel.: (505) 2684520 – 2685296,  Fax.: (505) 2681905
E-mail:             enriquez@lafise.com.ni;          Acastillo@apen.org.ni
Web: www.apen.org.ni

APEX
Asociación Panameña de Exportadores
Presidente: Lic. Máximo Gallardo
Director Ejecutivo: Lic. Daniel Vega
Dirección: Vía Ricardo J. Alfaro, Edificio Ricardo Galindo Quelquejeu, Panamá, Rep. De Panamá.
Tel.: (507) 2300169,  Fax.: (507) 2300805
E-mail: info@panama.org
Web: http://www.apexpanama.org

CADEXCO
Cámara de Exportadores de Costa Rica
Presidente: Licda. Monica Araya
Director Ejecutivo: Lic. Sergio Navas
Dirección: Curridibat, San José, Costa Rica De Veinsa (Minsubishi) 100 sur, 150 oeste.
Tel.: (506) 2808033,  Fax.: (506) 2257270
E-mail: maraya@cadexco.net; snavas@cadexco.net; cadexco@cadexco.net
Web: www.cadexco.net

COEXPORT
Corporación de Exportadores de El Salvador
Presidente: Licda. Vilma Calderon
Directora Ejecutiva: Licda. Silvia Cuellar
Dirección: Ave. La capilla, No. 359ª, Colonia San Benito San Salvador, El Salvador
Tel.: (503) 22120200, Fax.: (503) 22433159
E-mail: vilmadec@intercom.com.sv;  scuellar@coexport.com

FPX
Federación Agro Exportadores de Honduras
Presidente: Ing. Enrique Miselem Laca
Director Ejecutivo: Ing. Medardo Galindo
Dirección: BLV. Jose A. Peraza, Frente a Torre Banco del País, San Pedro Sula, Honduras.
Tel.: (504) 5660795, Fax: (504) 5663852
E-mail: enmisla@yahoo.com; mgalindo@fpxhn.net
Web: www.fpxhn.net